About Groundwater & Our Basins
What is Groundwater?
Groundwater matters to everyone. It's an important source of water stored in the earth beneath our feet, in spaces between sand, soils, and fractured rock known as an aquifer. Layers of aquifers make up a groundwater basin, which can extend for miles. Groundwater is a critical buffer against the impacts of drought and climate variability/ change, and plays a vital role in maintaining our region's (and the State's) economic and environmental sustainability. Sustainable groundwater management balances groundwater resources in a manner that ensures basin resiliency, which greatly benefits present and future generations. To learn more about groundwater, visit the California State Water Resources Control Board web page.
SBCWD's Groundwater Basins
San Benito County includes all or portions of 16 groundwater basins that are important sources of agricultural and urban water supply, and which support the environment. The SBCWD is responsible for water management throughout the county, including monitoring of basin water levels and water quality, management of salts and nutrients in the water, recharge into the basins, and annual reporting on the status of groundwater.
Of the 16 basins, the most developed for water supply are the Bolsa, Hollister, San Juan Bautista, and Tres Pinos Valley groundwater basins. These four basins are largely within San Benito County, except for small areas in Santa Clara County. In 2017 SBCWD and the Santa Clara Valley Water District agreed to cooperatively prepare the required Groundwater Sustainability Plan (GSP).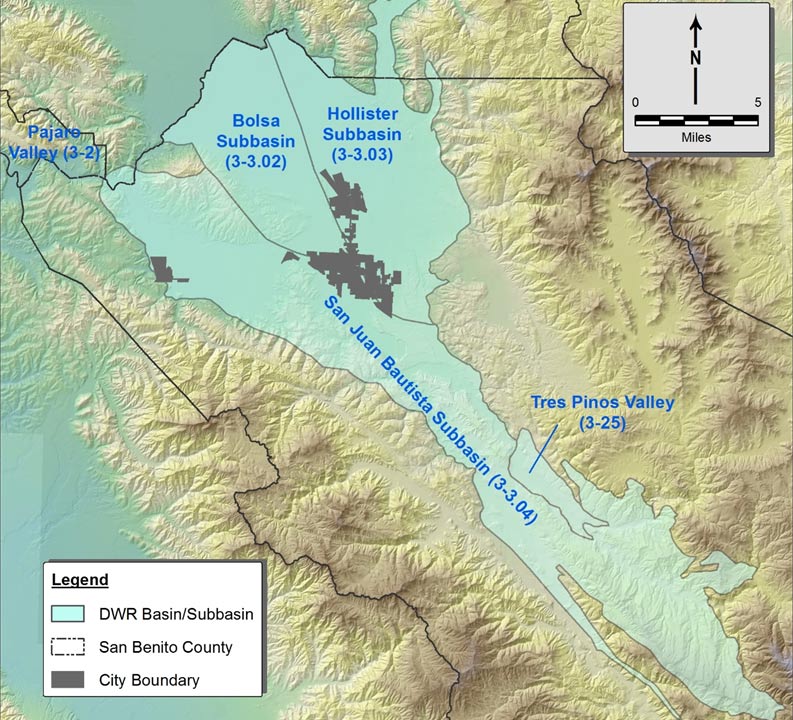 Basin Conditions
In addition to being a source of water supply, groundwater basins in San Benito County also provide water storage, which is critical in ensuring a reliable water supply through drought periods. After a documented historical high groundwater level in 1913 (prior to significant groundwater pumping), groundwater levels declined as agricultural and urban pumping increased during the early 20th century, reaching historical lows during the drought in the late 1970s. Subsequently, groundwater levels recovered and stabilized as a result of SBCWD's management of the groundwater, including recharge activities, and the increased use of Central Valley Project (CVP) water in lieu of groundwater.
There are multiple challenges to maintaining and ensuring groundwater sustainability, including increasing uncertainty about the future availability of imported water, particularly with climate variability and with competing demands from overdrafted basins elsewhere. In fact, the lack of imported water and the severity of the last drought resulted in some localized groundwater levels reaching lower than historical lows. This, coupled with local urban and agricultural development, suggests a risk of overdraft and illustrates the need to strengthen local management of this critical water supply and to ensure long-term sustainability.
For more information about basin conditions, please see the District's most recent Annual Groundwater Report.
The Role of Surface Water
SBCWD manages local surface water supplies, such as Hernandez, San Justo, and Paicines reservoirs, which are used for groundwater recharge (percolating water into the underground basin to maintain appropriate water levels). SBCWD also imports surface water from the Central Valley Project (CVP). CVP water (known as "blue valve" water due to the blue pipes and valves visible along some local roads) is delivered to agricultural, municipal, and industrial customers in "Zone 6" – an area which overlies portions of the Hollister and San Juan Bautista basins.